As soon as the seasons start changing, I start getting "the itch".
"The itch" = the overwhelming desire to run to the closest Neimans/log-on to Shopbop and overhaul my entire summer wardrobe. But between a life of self-employment and an impending trip to Europe, my shopping fund is at an all time low. Time to improvise!
Even though the Shopbop and Saks Friends and Family events were
calling
SHOUTING my name the other week, I decided to pass in favor of some more affordable options. While cruising the mall, I decided to stop in Express. I hadn't shopped in Express since I was 14 or so, but the lovely
Gina
always finds the
cutest
stuff there, so I decided to stop being a snob and see what it was all about. Express also happened to be holding a store-wide 40% off promotion, so why not give it a shot?
Boy, oh boy. Express WAY exceeded my expectations (
Gina,
you were right!). In addition to a few other goodies, I snagged
this adorable romper
for less than $35 after the discount was applied! It can be difficult for non-petite girls to find rompers that are flattering and long enough to cover your boot-ay and this one fits the bill. The shorts are actually so flowy that it looks like a sundress from afar. It's perfectly light and airy for sweaty South Carolina summers! I paired it with simple flat sandals since we were headed to the park and
Brewery 85
, but you could easily amp up the look with strappy heels and killer jewelry.
Bag:
Gap
(sold out online)
Necklace: Find at the Apparel Mart (old)
I also stopped in the Gap and scored this genuine leather crossbody for less than $30 (sorry for the blurry photo). It will be the perfect bag to take to Europe!
While I still plan on splurging now and again (my motto will always be quality over quantity), I love knowing that I can find pieces that I absolutely LOVE that don't break the bank. The thrill of buying an entire (cute!) outfit for less than I would normally spend on one blouse is thrilling and semi-addicting ;). It's a sale shopping high!
Also, can we talk about the drastic color difference between my upper and lower body?
SPOILER ALERT - Sally Hansen's Airbrush Legs in "Light" is not light. At. All.
So dark, much orange.
At least it covered up all of the bruises I've acquired from living the klutz life?
What are your favorite budget-friendly clothing retailers?
Can anyone recommend a great leg makeup that works for girls who have NOT spent three weeks on a tropical island?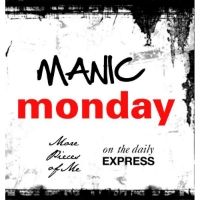 Linking up with
More Pieces of Me
&
On the Daily Express
!
This post was not sponsored by Express or Gap. All thoughts and opinions are my own.